Additional Supports & Resources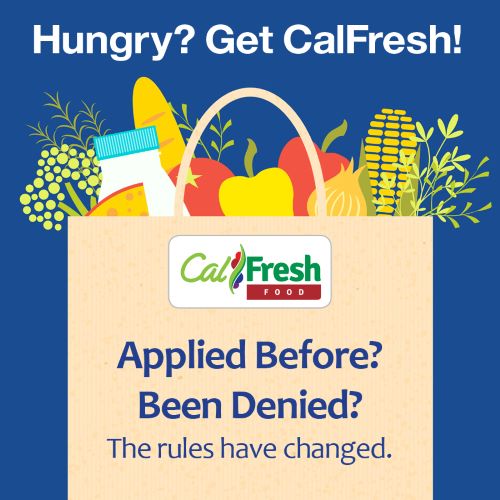 Hungry?  CalFresh Can Help.
If you're a student enrolled half-time or more, you might be eligible for CalFresh.
Campus resources can be found at:
Student Health Services https://www.avc.edu/studentservices/health
Basic Needs:  https://www.avc.edu/basicneeds
Need more info? Email studenthealth@avc.edu
CA COVID-19 RENT RELIEF 
Apply Now: HousingisKey.com or call 833-430-2122



WEDO Connection Post & Drop-In Center   45111 Fern Avenue Lancaster, CA    (661) 949-1206 CCAV.ORG/CONNECTION
Clothing Assistance-Laundry & Shower Access-Housing Assistance-Hot Meals Available-GED Assistance-Mental Health Services-Support Groups-Employment Assistance


No Cost COVID-19 Vaccination Clinic
Quick and easy vaccination at no cost to you.  Individuals 16+ are eligible.  Visit myturn.ca.gov and scroll to find us!
Monday-Sunday  11AM - 7 PM  Palmdale Oasis Park Rec Center 3850 E. Avenue S Palmdale, CA 93550
COVID-19 Update Group
Join us to learn about the latest updates about the pandemic. Every Friday 4:30 - 5:30 PM
Click here to join the meeting on Teams.
For more info contact Cassandra Morga cmorga@dmh.lacounty.gov



The American Lung Association is committed to helping educate, intervene and prevent the use of tobacco and nicotine by the next generation. This is especially important because close to 95 percent of smokers try their first cigarette before the age of 21. With the Federal Drug Administration's recent announcement about teen vaping reaching epidemic levels, the fight against nicotine and tobacco has become even more vital. The resource link below offers  the tools to not only talk about the dangers of tobacco but to provide the tools to help quit if already addicted. 
Resource Link click here.  


https://www.calhopeconnect.org/
Helping to fund, develop, and implement mental health services at the state, regional, and local levels. We are delivering crisis counseling support for Californians impacted by COVID-19, with funding from the Federal Emergency Management Agency (FEMA).
This service is part of the Crisis Counseling Assistance and Training Program run by the California Department of Health Care Services, in response to the COVID-19 emergency. See the CalHOPE website for more state resources.
WE EXIST  
LGBTQ+ Support Groups Information offered through Tarzana Treatment Center
for more info please call (818) 527-6562 or  WeExist@tarzanatc.org


Department of Mental Health Supports for All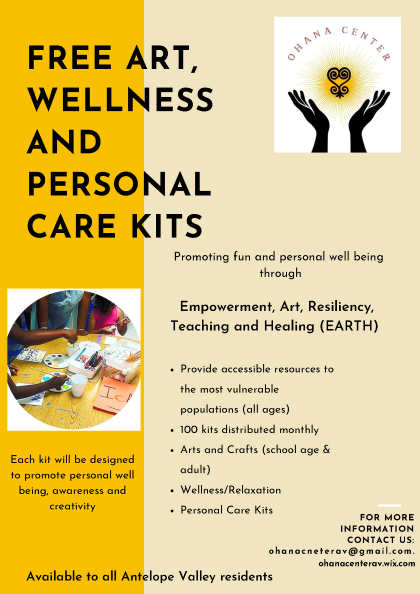 Wellness and Personal Care Kits from the Ohana Center
For more information contact ahanacneterav@gmail.com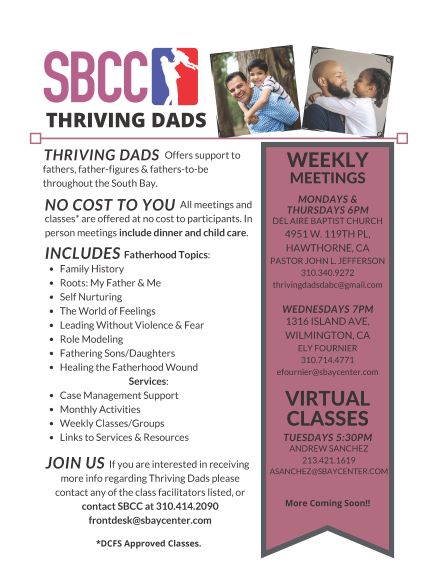 Thriving Dads Virtual Classes Tuesdays @ 5:30PM
Please contact Andrew Sanchez directly at (213) 421-1619 or email asanchez@sbaycenter.com for link to join.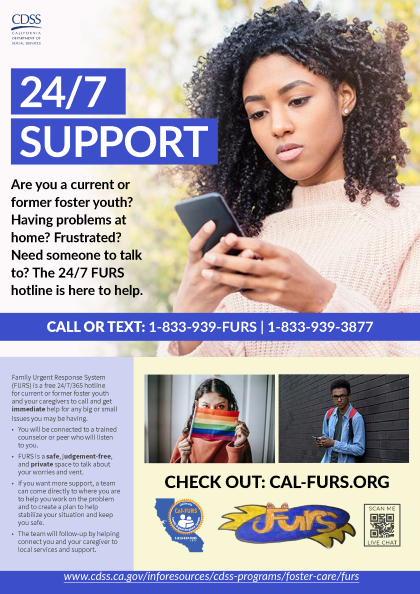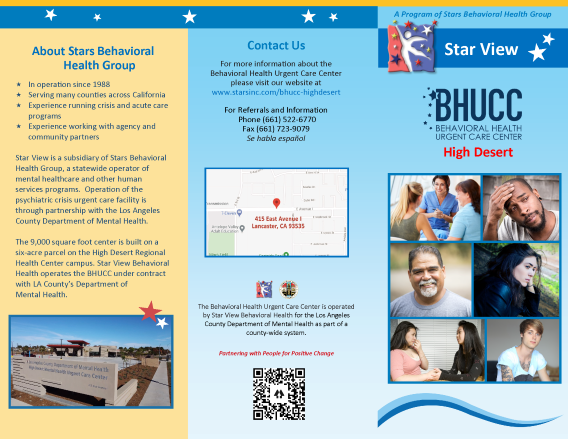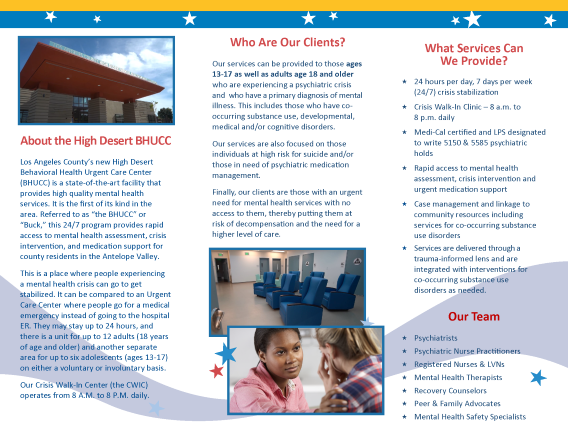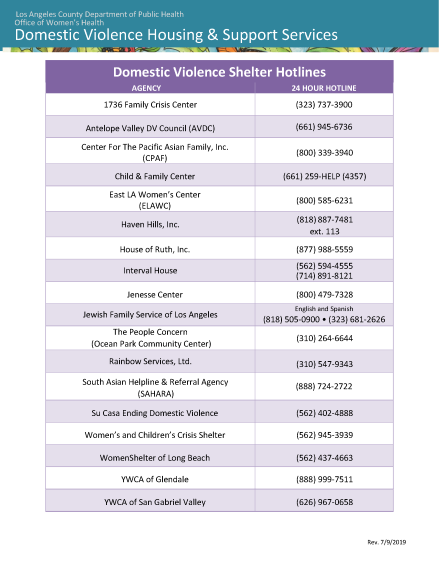 Need County and Community Resources?  Access The 2020 People's Guide here by clicking on the link below.  The guide is available in both English and Spanish.  Contact studenthealth@avc.edu if we can help get you connected!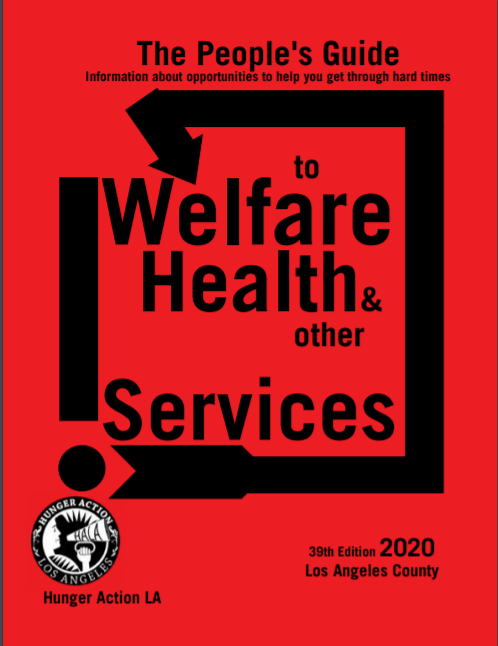 LACO_English_2020_Peoples_Guide_Final.pdf
LACO_Spanish_2020_Peoples_Guide_Final.pdf

National Domestic Violence Hotline  1.800.799.7233

National Suicide Prevention Hotline  1.800.273.8255
Department of Social Services   
Students can apply for CalFresh at: https://students.getcalfresh.org/
Other benefits and information available at the Your Benefits Now website: https://www.yourbenefits.laclrs.org/ybn/Index.html
The DPSS Customer Service Center can be reached at (866) 613-3777.
Medi-cal


Disaster Response Resources  
The recent wildfires in Northern and Southern California have been disruptive and traumatic for communities throughout the state.
The California Community Colleges (CCCs) in impacted areas are experiencing significant disruptions to school functioning, and
face challenges to returning to normalcy. Many students, faculty, staff, and administrators have been directly affected by the loss of
life and property from these fires.
Coping Strategies for College Students
The following strategies are adapted from SAMHSA's four-page Tips for College Students: After a Disaster or Other Trauma
tipsheet.
Talk about your emotions with peers, family, a professor, a counselor, or another trusted person. If you have physical ailments, visit the health center or talk to your physician.
Take care of yourself. This includes exercising and stretching, deep breathing or meditation, and eating healthy meals when available.
Take a break from social media and television.
Avoid alcohol, tobacco, and drugs.
Get back to your daily routines, even if you don't feel like it, to regain a sense of control.
Get involved in your community and recovery efforts.
Ways to Help
KQED News lists links to organizations accepting money, plus information about how to provide shelter, volunteer, and donate items.
Los Angeles station KTLA 5 lists where to donate funds, how to help animals affected by fires, and where to volunteer.
Crisis Resources
This Helpline provides crisis counseling and support to people experiencing emotional distress related to natural or human-caused disasters. Call
1-800-985-5990
or text
TalkWithUs to 66746
(Spanish: Hablanos) to connect with a trained crisis counselor.
Anyone experiencing emotional crisis can text
COURAGE

 

to 741-741
to communicate with a compassionate, trained crisis counselor. The Chancellor's Office partnered with Crisis Text Line to develop
outreach materials
for the CCC (watch the
archived webinar
to learn more).

Resources to Share with Students
This four-page SAMHSA tipsheet outlines signs of distress and ways that college students can cope with disaster in a healthy way.
Disaster Preparedness for College Students
Texas A&M Agrilife Extension compiled this list of action planning tips and emergency kit supplies specifically for college students. It includes considerations for living away from family and in a dorm or apartment.
Crisis Resources
SAMHSA's Disaster Distress Helpline
This Helpline provides crisis counseling and support to people experiencing emotional distress related to natural or human-caused
disasters. Call 1-800-985-5990 or text TalkWithUs to 66746 (Spanish: Hablanos) to connect with a trained crisis counselor.
Crisis Text Line
Anyone experiencing emotional crisis can text HOME to 741-741 to communicate with a compassionate, trained crisis counselor.
 
Valley Oasis Liaison
On campus Sexual Assault Advocate, Angelina Alvarez can be reached at (661) 341-7962 or at aalvarez@avdvc.org for assistance or support regarding dating violence, domestic violence, sexual assault and stalking past or present.  
Student Health 101
Student Health Services is currently offering Student Health 101, a free online magazine. Each monthly issue is full of relevant, timely information, from eating well and staying active to managing stress and studies; Student Health 101 has it all. To locate Student Health 101,click on Student Health 101 on the left side of the website or log in to myAVC, click on College Services and find the link under Health Services. Read the latest issue of Student Health 101 and view archived issues.